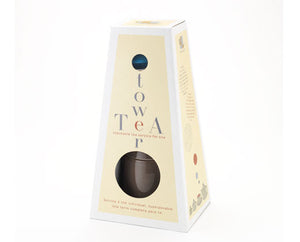 Stackable Tea Service!
Unique in both functionality and appearance, the Tea Tower, the newest creation from Classic Coffee and Tea, is a must-have for any tea lover. The one-of-a-kind stackable set not only provides for fun tea service, but it makes storage easy, efficient, and stylish. The set comes complete with a saucer, teapot, mug, creamer & sugar set with lids. The Tea Tower is also microwave and dishwasher safe, and is made from fine porcelain that would satisfy the most refined tea connoisseurs.
No tea-drinker's collection is complete without the Tea Tower. Whether you are serving a guest, serving yourself, or looking for a housewarming gift, the Tea Tower is sure to please.